Rodent Control
Trapping is an effective form of rodent control in the Atlanta area. Rodents can be caught alive in cage traps or immediately killed by snap traps. The benefits to trapping are that we can identify what we are controlling and the number eliminated. We can generally locate the remains because the remains are usually in the vicinity of where we strategically placed the device whether it is a live cage trap, a snap trap, or multi-catch devices. Glue boards, we believe, are inhumane and many times ineffective. The disadvantage to trapping is basic economics. We must frequently return to the property to remove carcasses and reset traps. Each visit is generally $45. The rate is determined by the distance traveled, the number of devices that were placed on the property, and the location of the devices.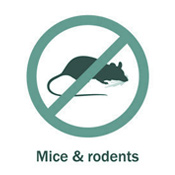 Bait is placed in tamper-resistant containers. These are not traps. So once the rodent has fed on the bait it will wander about at his leisure. He will expire wherever he spends the majority of his time. The idea that the rodent will go to search for water and expire away from the premises is ideal but not likely. Baiting is believed to be convenient and less expensive. However, when a rodent has expired in your wall and it cannot be located and removed, that is by no means convenient to the customer. The customer then has the option to try to implement odor control methods, or dismantle sections of the wall or ceiling to locate and remove the carcass, thereafter paying for the costly repairs, or just wait out the impending odor and fly control issues that accompany the decay. Baiting can be an economical form of rodent control in Atlanta if you do not mind the potential issues.
This rodent control method is designed to keep rodents from entering the structure. Sometimes the solution is simple. It may be that a crawl space vent is in disrepair or the A/C condensing unit line that enters the structure needs sealing. Perhaps the garage door does not seal properly. These things can be addressed with little expense. In other cases however, the roof line may not be properly sealed or the foundation may need numerous repairs. Addressing these concerns typically costs more, maybe even hundreds of dollars. We will have one of our technicians inspect the property, provide a written estimate of the cost of completing the exclusion work, and set traps to begin eliminating the infestation. This service is generally $75. If the exclusion work exceeds $250 and the customers chooses to go forward with the repairs, then Waterhouse will deduct part of the initial inspection costs up to $40. Guarantees up to 5 years will thereafter be provided. If we cannot repair the entries we will recommend local Atlanta area contractors that are able to do so if you do not already have a capable contractor.
[contact-form-7 id="6709″ title="Contact form 1″]